Cécile and Nathan have over 20 years experience in the global fragrance industry, spanning all types of fragrance development and applications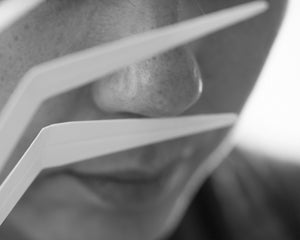 Cécile Hua
There are literally more astronauts in the world than people with Cécile's qualifications as a perfumer.
Born in Marseille, Cécile's interest in scent began at the age of 7, when she had her first olfactive dream involving the smell of blue ink (which she still remembers vividly to this day). At 14, she found out that being a perfumer is an actual occupation and the rest is history. After earning a Master's Degree in Chemistry (Cécile hates chemistry) to lay the foundation of her technical knowledge for perfume creation, Cécile was chosen to attend the invitation-only Givaudan-Roure Perfumery School in Grasse where she spent three years mastering the techniques of modern perfumery. Graduating first in her class (of 3), Cécile took her talent to Paris and eventually New York, where she spent 15 years working in luxury fine fragrance and specialties before continuing on to consumer products as well. This unique ability to span ALL categories of perfumery is as rare as it is difficult to achieve, making Cecile an expert in every aspect of fragrance creation. Since then, Cécile has been the creative drive behind countless fragrances launches around the world, working with some of the most famous celebrities and brands of our time. In 2020, Cécile was honored as a Fragrance Foundation Hall of Fame Finalist.

Cécile continues to develop fragrances as a senior perfumer at MANE and served as Vice President for the American Society of Perfumers.
Nathan Motylinski
Being both an accomplished entrepreneur and advisor gives Nathan unique insight into what it takes to be successful in today's highly competitive fragrance industry.

After honing his business acumen at Kenan-Flagler Business School, Nathan later discovered his passion for fragrance through the acquisition of a niche fragrance brand that he re-branded and launched in the luxury goods market. In doing so, he saw an opportunity to assist others with fragrance-related brand and product development and Bespoke Fragrance was born. Since then, Nathan has been assisting companies of all sizes, from niche brands to global consumer goods companies, with insight and execution in the areas of branding, marketing, fragrance/product development, strategy, consumer insight and competitive analysis.

Nathan holds several fragrance-related design and utility patents and is a 10-time finalist for Fragrance Foundation FiFi Awards for fragrance and product design. In 2014, he was recognized as a Rising Star finalist for Fragance/Beauty Entrepreneur by Fashion Group International.